GUIDE TO CHOOSING MOBILE ACCESS TOWERS
key things to consider when choosing mobile access towers
We look at some of the key things to consider when choosing mobile access towers for your projects.
Creating a safe and efficient working environment for your employees and contractors, means ensuring you have the right equipment for the task in hand. Lightweight mobile access towers are a frequently relied upon piece of construction equipment due to their flexible usage both indoors and outdoors. If used correctly, mobile access towers provide a secure structure when working at a height.
What are Mobile Access Towers?
Mobile access towers are a type of lightweight scaffolding system. Usually made from aluminium, they can be easily moved from one place to another. Due to their portable nature, aluminium scaffold towers are popular for tasks such as drylining, plastering, overhead electrics, and painting and decorating.
They can offer a safe and stable platform to work in more challenging environments such as stairwells and lift shafts. And, because they are usually modular in design, they can often be adapted to suit changing height requirements.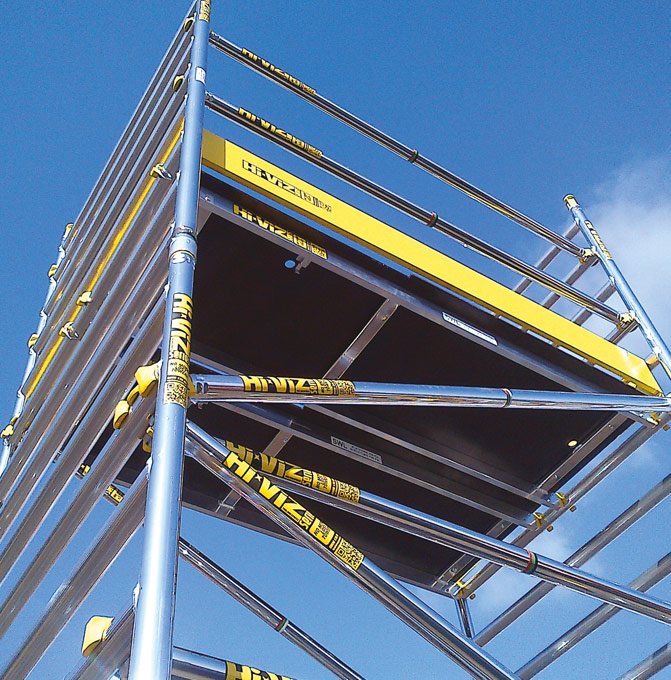 If you or your employees are going to be working at a height for long periods, then mobile access towers will be a safer option than working with a ladder since, they can stand upright on their own and don't need to lean against a wall or structure to remain stable.
However, they are only safe if the correct procedures are followed when assembling, using, and dismantling them. Improper usage can cause serious injuries, even fatal accidents.
Working from a Height – Safety Considerations
The number one priority will always be keeping employees, contractors, and site visitors safe. The Health and Safety Executive's recent statics are sobering. The period 2019/2020 reported that the construction industry had the highest number of fatal injuries to workers, and a quarter of all worker fatalities were due to falls from a height. So before purchasing or hiring mobile access towers for your construction site, there are several safety considerations to take into account.
The Work at Height Regulations 2005
Workplaces are required to comply with to the Work at Height Regulations – the purpose of these regulations are to help prevent injuries and fatalities caused by working at a height. As an employer these regulations will apply to you; and as an employee you are also responsible for taking reasonable care of yourself and others who may be impacted by your actions.
The HSE provides resources that you will need to familiarise yourself with. You may also find our article Safety When Working at a Height helpful.
Tower Scaffolds – Guidelines
In addition to wider working at height regulations, there are specific safety guidelines relating to different equipment and types of work.
HSE have detailed guidelines for using Tower Scaffolds. For example, ensuring that the type of tower used must be appropriate to the task. And, must be erected and dismantled by people who have been trained and are competent. HSE Tower Scaffold Guidelines.
EN 1004 / EN 1004-1: 2020 compliance*
Mobile access towers must comply with the required safety standards and as an employer you need to check that the equipment you purchase or hire complies with these standards.
The European safety design standard for mobile towers is the recently revised EN 1004-1:2020.
Learn more about EN 1004-1:2020 certification.
*THX's Hi-Viz series of mobile access towers are already compliant with the revised safety standards EN 1004-1:2020 that need to be in place when the old EN 1004 is officially withdrawn 30th November 2021
Choosing the right Mobile Access Towers
Before hiring your mobile access towers, you will need to have assessed the job so you can make sure you are selecting the right type of scaffold towers for your purposes. For example:
The number of people that will be working on the platform. This will have an impact on the platform size required, from both a weight and space perspective.
The area you will be working in needs to evaluated. For example, is it indoors or outdoors? Is it an awkward space like a stairway or lift shaft? Are there immovable obstructions that need to be considered?
There is a difference between your working height, handrail height and platform height – so when you are ordering you will need to take this into consideration .
– The working height is the height the average person can reach whilst standing on the platform – your maximum reach.
– The handrail height is the tower height and where the guardrail will go.
– The platform height is always lower than the working height and handrail height, since it refers to where the platform deck is placed – the height to which the platform is raised off the ground. Essentially, it is where your feet are whilst you are working.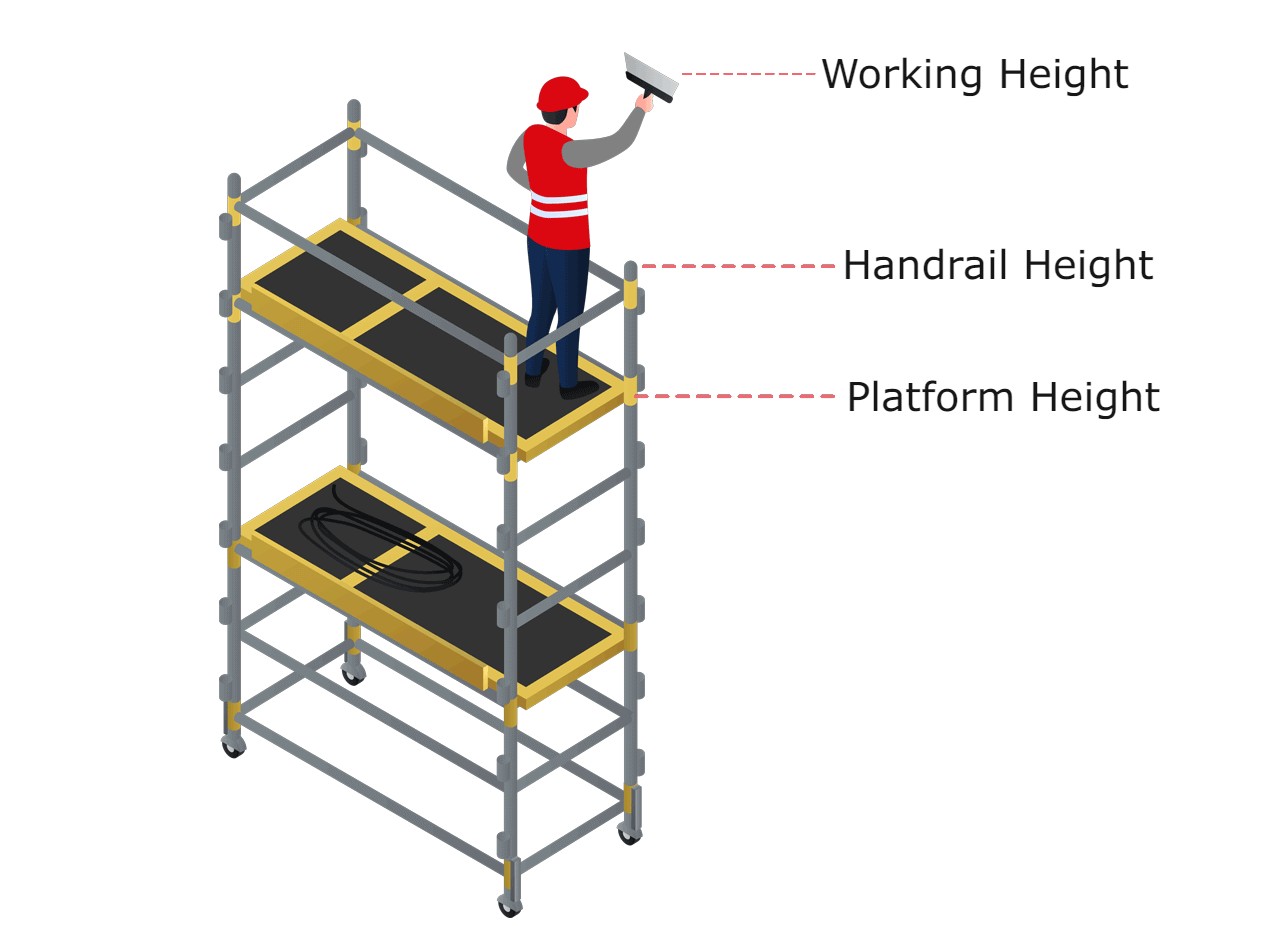 If you are unsure, a good hire company will be able to guide you through any questions you may have, to help make certain the correct equipment is ordered.
And don't forget, when you are supplied with a mobile access tower unit (scaffolding towers), check that it has arrived with all the safety components for that unit in place. Manufacturers and suppliers are required to supply full instruction manuals with the towers.
Examples of different Types of Mobile Access Towers
There are many types of access solutions available and choosing the right mobile access towers for the projects or tasks being undertaken is important. Not only will selecting the wrong equipment pose a serious safety risk, but it is also likely to cause delays to the project whilst you wait for it to be replaced.
Below are some examples of different types of mobile access units you are likely to come across – each one designed for different settings and tasks.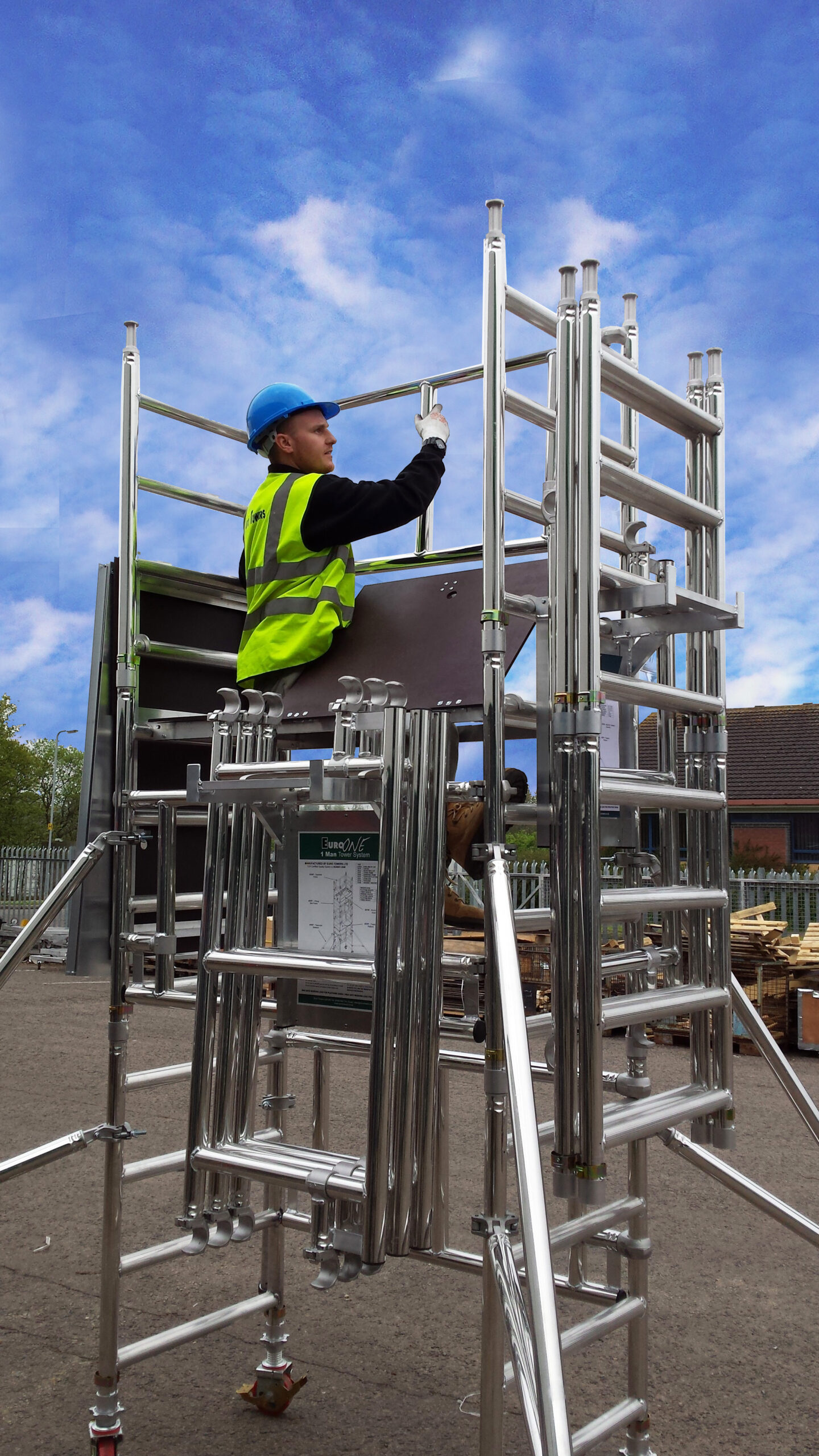 These are designed to be simple to assemble and dismantle by one person. The towers are easily portable, as the base unit forms a trolley for easy storage and mobility.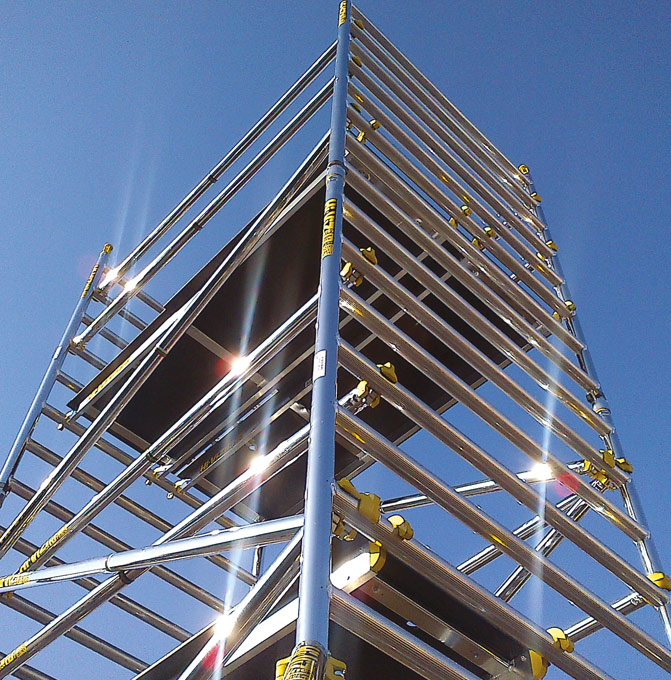 These are flexible units that can be adjusted to differing heights depending on your task. They can be single width or double width depending upon the platform size and the height required. Single width towers usually range from about 2.4m up to about 9M whereas double width can reach higher heights – often up to 13M.
Stairways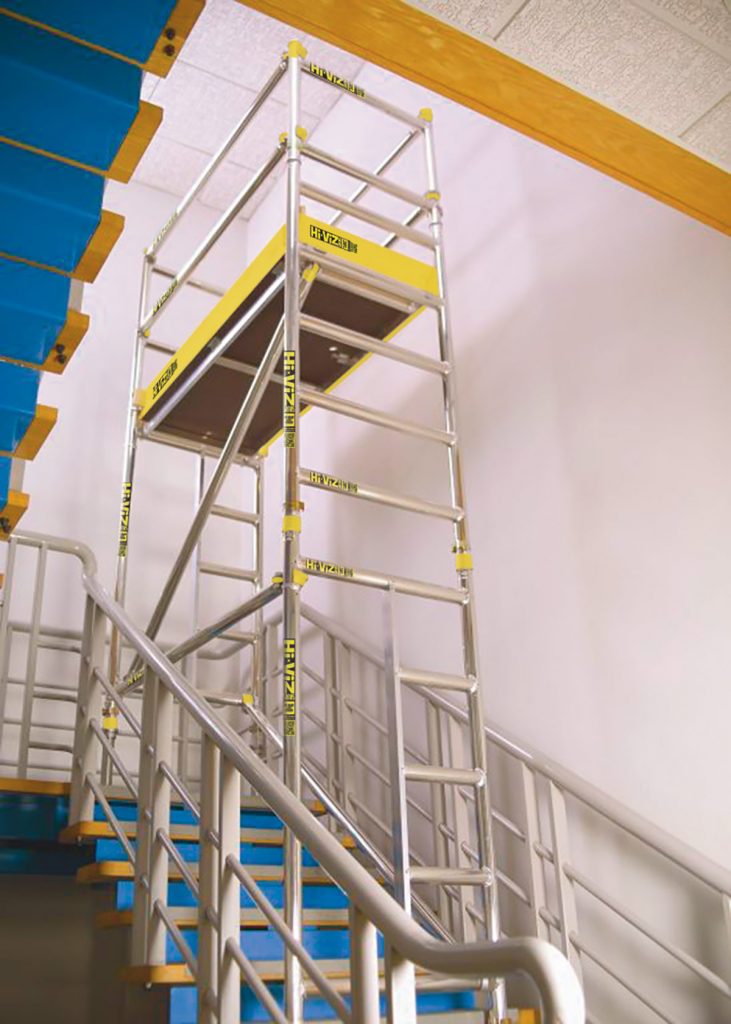 Stairway Tower – Stairways can be a challenging work environment with steps making an uneven, awkward surface. Mobile access units provide specialist equipment to create a safe, stable working environment. Stairway Towers usually provide a platform levels from 2.2M up to working heights of over 11M.
Stairway podium – these are smaller one-man units that provide a secure platform level of up to 0.5M.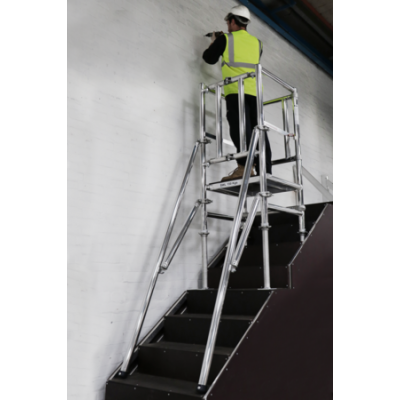 High Clearance Units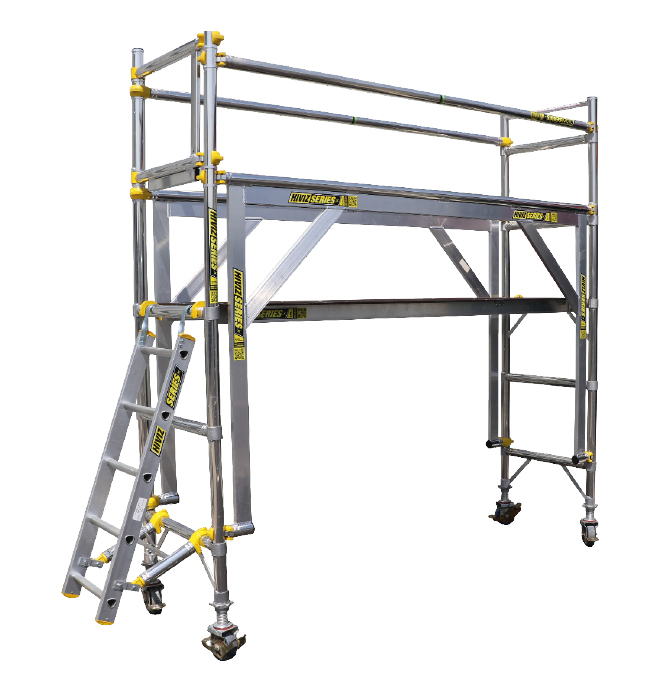 High clearance units are designed for work to be able to be conducted over immovable or fixed obstructions, such as hedges, conveyors, even desks.
Lift shaft tower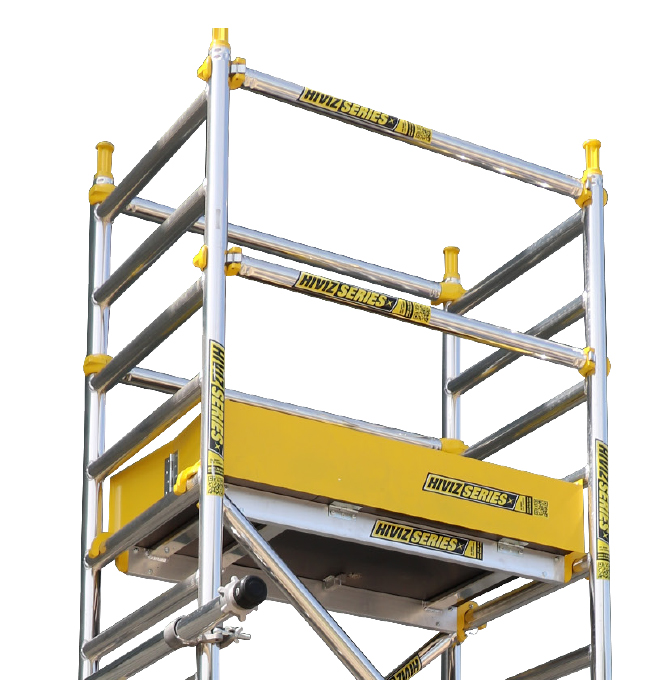 Lift shafts are often narrow, constricted spaces. Lift shaft towers are designed specifically for just such confined areas.
If managed correctly, mobile scaffold towers are an efficient, safe way to work from a height. For you or your workers to use them safely however, you need to make sure you have familiarised yourself with, and are complying to, the correct regulations and safety guidelines. And are choosing the right mobile access towers for the task at hand.
At THX we have a range of access solutions, including our Hi-Viz series aluminium towers – which are all EN1004-1:2020 compliant. Our team of customer services advisors will be able to help guide you through any questions you may have.