Diesel vs electric scissor lifts
Which to choose – diesel or electric scissor lifts?
We take a closer look at diesel and electric scissor lifts, two of the most popular types of scissor lifts found on construction sites.
First patented in 1963, Scissor lifts have become a mainstay on construction sites throughout the world. These popular ariel lifts can typically reach working heights of between 19ft– 50ft and are suitable for both indoor and outdoor use. They, provide a safe, stable platform when working at height.
Advances in battery technology alongside the growing demand for emission free, low noise equipment, has seen an increased use of electric scissors lifts in construction over recent years.

How does a scissor lift work?
The 'Scissor' lift name reflects the criss-cross design of the lifting mechanism which opens and closes as the platform is raised and lowered. It is these collapsing scissor legs that also makes scissor lifts so easy to store.

Scissor lifts will typically have one to four cylinders attached, filled with hydraulic fluid, or compressed air (depending on the power source). When the power source is switched on, the cylinder(s) fill and are pushed outwards causing the scissor legs to push apart and the platform rise.

Extending straight up from the base vertically, scissor lifts move up and down only.
Scissor lifts are typically powered through either hydraulics, air pressure (pneumatic), diesel, or electric.
Suited to both Indoor and outdoor environments
Due to their versatility, scissor lifts are used for a range of tasks across the construction industry. They are suited to most tasks that require working at a higher elevation.
Scissors are lightweight, user friendly, and easy to manoeuvre. Consequently, they are particularly suited to indoor environments. Equally, heavy-duty diesel scissors such as Rough Terrain scissors are ideal for working outdoors on rough, uneven, or sloping ground.
What are the benefits of using a scissor lift?
Whilst not able to reach the dizzy heights of boom lifts, and only able to move vertically, scissor lifts are still a practical and popular choice for jobs that require working at a height:
User friendly. Scissors have a simple mechanism that is easy to operate and can be used by a single operator.
Cost effective. Their versatility means that they can be used for a variety of different tasks on site.
Large platform. Scissors typically have a larger working platform when compared to other ariel lifts. This means that they can also fit materials and/or securely lift more than one person.
Mobile. A compact, lightweight design makes them simple to move around site
Storage. Even the larger models fold right down and so they are easy to store when fully retracted. The compact design also means that they won't take up a lot of valuable floor area.
Versatility. A variety of available models mean scissors lifts can be used both indoors and outdoors. They can also provide a safe way to gain access awkward tight spaces (linked to the genie narrow product)
Safety. Scissor lifts provide a solid, safe working platform to help minimise the risk of working at height.
Practical. Most indoor scissor lifts come with solid, non-marking tyres, particularly good in an indoor environment where the floor needs protecting.
Diesel or Electric Scissor lifts – how do they differ?
Whilst the jury is still out as to whether electric scissor will completely replace diesel scissor lifts anytime soon, there is no denying that electric scissor lifts have come on and leaps and bounds over the last decade. They are continuing to increase in popularity as the demand for zero emissions equipment continues to grow.
Diesel Scissor Lifts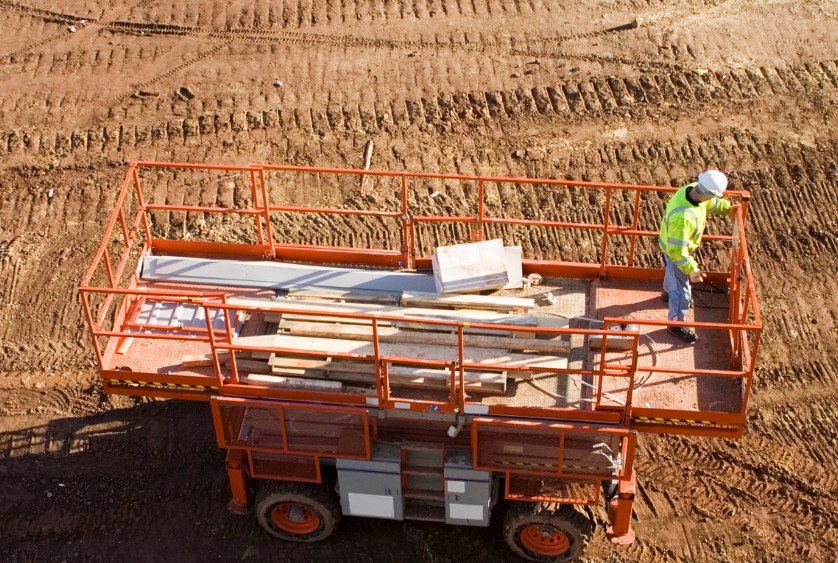 Traditionally, Diesel Scissor lifts are the go-to scissor lift for outdoor work. This is because historically, electric scissor lifts struggled with the uneven, rough ground found typically found outside on a construction site. And, with electric charging required for battery powered scissors, diesel was felt to be more practical in an outdoor environment.

Because diesel scissor lifts leverage diesel fuel, they tend to be the most powerful, heavy duty scissor lifts available. They typically have larger platforms and are capable of handling greater loads.
However, the diesel engine means that they are noisy and, because they emit fumes, diesel scissor lifts are considered environmentally unfriendly.

Rough terrain scissor lifts also tend to be diesel. With their wider, reinforced tyres they are able to navigate uneven, rough ground and sloping terrain that can be prevalent on outdoor sites.

It is important to mention that we are seeing increased competition from the electric market with manufacturers like Genie offering electric drive rough terrain scissor lifts. Although perhaps slightly less powerful than their diesel counter parts – they remain a great alternative.
Electric scissor lifts
Advances in technology and the move towards using sustainable alternatives has meant the continued rise and increased popularity of electric scissor lifts. Indeed, according to research, the global Electric Scissor Lift Market is forecast to grow at a CAGR (Compound Annual Growth Rate) of 5.5% from 2018 – 2030.


So, what are the main benefits of using electric scissor lifts?
Environmentally friendly. Zero emissions make electric scissors lift far more environmentally friendly than their diesel counterparts.
Efficient: As battery technology continues to evolve, many electric scissor lifts are now able to provide enough uptime to easily power standard jobs.
Cost effective. Efficient battery powered motors means no fuel costs.
Reduced noise pollution. Exceptionally low noise compared to diesel – making them ideal for indoor use.
Service and Breakdowns: Reduced risk of hydraulic leaks and dependency on Hydraulic Oils
Electric Scissor Lift Hire – our range of Electric Scissor lifts
THX offers a number of electric scissor lift models for hire from both Genie and JLG . If you are not sure whether to hire or buy, then have a read of our article to found at which may be best for you – Hiring Vs Buying Construction Tools and Equipment'.
GENIE AC E-DRIVE ELECTRIC SCISSOR LIFTS:
30% increase in runtime and efficiency
Quiet, zero emission electric operation
Genie AC electric E-Drive System
The state-of-the-art Genie AC electric E-Drive system offers unmatched efficiency and runtime on installation, maintenance, and construction jobs where a significant amount of driving is required. The new E-drive scissor lifts have a 30% increase in runtime and efficiency. Also featuring 70% fewer hoses and fittings than the standard hydraulic scissor lifts which significantly reduces the risk of hydraulic leaks.

Suitable for work indoors and outdoors on firm, level surfaces where space is limited:
Genie GS2632 Electric Scissor Lift, E-drive – Narrow, 26ft, 9.9M Working Height, 227kg capacity
Genie GS2646 Electric Scissor Lift, E-drive – 26ft, 9.9M Working Height, 454Kg Capacity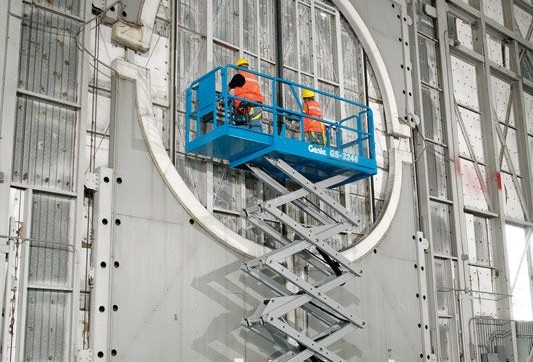 Genie GS3246 Electric Scissor Lift, E-drive – 32ft, 11.8M Working Height, 318Kg Capacity
Genie GS1932 Electric Scissor Lift, E-drive – 19ft, 7.8M Working Height, 113Kg Capacity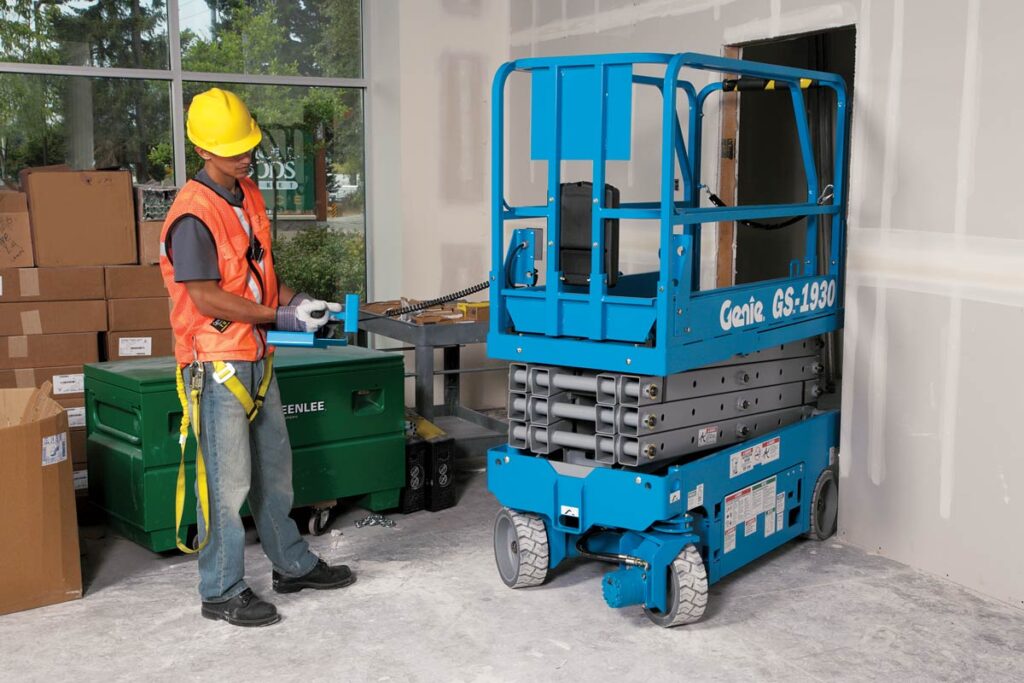 JLG ELECTRIC SCISSOR LIFTS:
JLG offer a range of electric scissor lift solutions for all types of tasks
JLG R1932, Electric Scissor Lift, 19ft, 7.8M Working Height, 230 Kg
RSeries: These scissor lifts have fewer parts and all-steel swing-out component trays. Their compact dimensions are ideal for confined spaces.
JLG ES1330L, Electric Scissor Lift, Short 13ft, 5.8M Working Height, 227 Kg Capacity
Experience the benefits of reduced charging time and longer runtime with the ES Series. This compact scissor lift from JLG is lightweight and compact, making it ideal for indoor work on sensitive flooring.