HIRING VS BUYING CONSTRUCTION TOOLS & EQUIPMENT
Hiring vs buying? When it comes to having the right tools and equipment on-site, the question of whether you should be looking at hiring or purchasing may arise. Whilst there are pros and cons to both, a variety of factors should be taken into consideration before a decision is made.
For example, type of equipment, project schedule, financial aspects, hidden costs, maintenance, storage and transport, should all be factored in. This way you can make an informed decision as to which option is best for your company.

We identify some of the key things you may wish to think about before deciding whether to hire or buy; alongside a summary of the pros and cons of both hiring and buying construction equipment.
HIRING VS BUYING – KEY THINGS TO CONSIDER
1. Usage and duration. How often will you use the equipment?
There is a general rule of thumb in construction that if an item of equipment is in use 65 -70% + of the time then you may want to think about purchasing*. However, you also need to factor in future requirements and include, not only projects you are currently working on, but contracts you may have coming up over the next 12 months or so.

For example, you may be about to start a contract that requires the use of a specialist lift shaft tower for 75% duration of the project. You also know that the next few contracts will not require this specialist access item. Therefore, your overall yearly usage for that piece of equipment will be much lower than the 75% for that project.
*It is also worth noting that some hire companies offer special rates for longer duration hires (such as THX's Smart Hire).
2. Do you have access to safe storage when the item is not in use?
Whilst storage tends not to be such an issue for smaller tools and equipment (although you do need to think about how you can keep your tools secure and out the reach of thieves), for larger items you will need to think about where they can be safely stored when not in use – such as in-between contracts, or when the site is closed. This could mean additional storage costs on top of the cost of purchase.
3. Inspections, maintenance, and repair
You will need to factor in the costs, in both time and resources, of ensuring that tools and equipment are properly maintained. Do you have the resources in place for repair, maintenance, and statutory inspections such as LOLER? Or will you need to invest in additional resources or training?

You may also want to consider the impact of downtime resulting from equipment repairs. If tools and equipment breakdown on-site, can you replace them quickly with an alternative, or are you restricted to having to wait until the item is repaired?
4. TRANSPORTS COSTS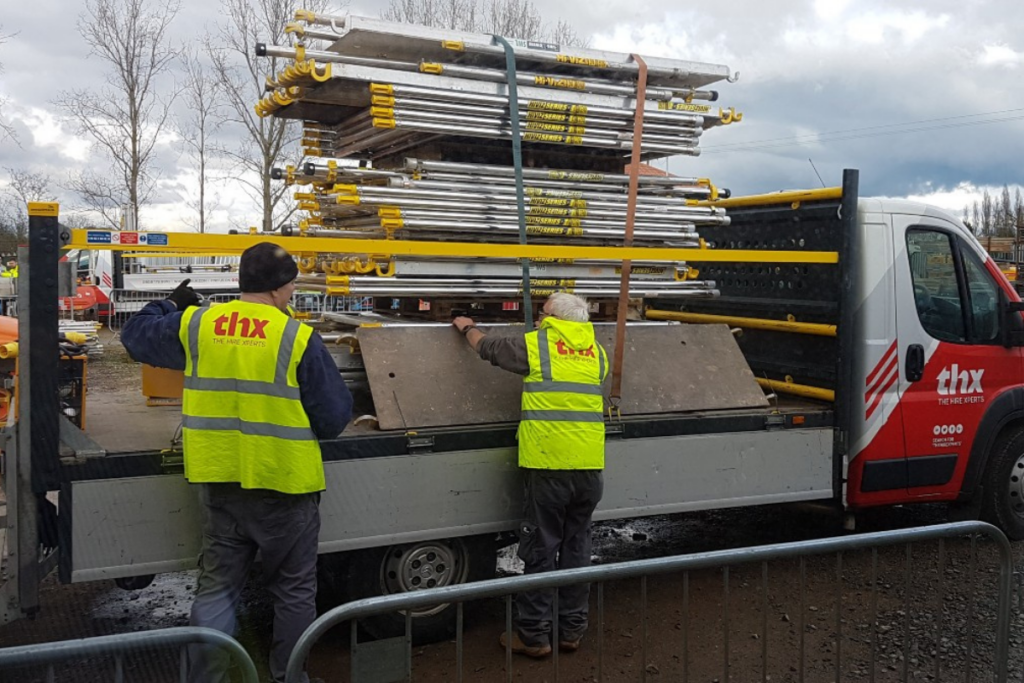 Do you have an easy way to transport larger equipment from site to site? You may also want to think about the resources required for transport – not only a driver, but also whether additional help is needed for on-loading and off-loading equipment.
5. DO the SUMS
Financial aspects need to be taken into account. Depending on the equipment and situation, hiring equipment may sometimes work out to be more expensive in the longer term, but if you are buying you will have to outlay more capital upfront (both when buying outright and financing) and will need factor in the other hidden costs that come with owning equipment such as storage, repair, insurance, maintenance, transport. Costs that are often covered tool hire companies.

Before you decide, and particularly when there is a significant monetary investment at stake, it is worth running numbers to compare the hire rate against the cost of ownership. Consider not only acquisition and financing-related costs, but also factor in deprecation, resale rate, insurance, repairs, maintenance, inspection costs, and usage.

This can help you decide whether you are better to hire or buy in any given situation.
Below is a summary of the main pros and cons of both hiring and buying equipment.
the PROS AND CONS OF BUYING EQUIPMENT
| | |
| --- | --- |
| PROS OF BUYING | CONS OF BUYING |
| Availability and convenience. | Upfront capital investment costs are often higher whether purchasing or financing. |
| Costs can be lower if usage is +65-75%. | Depreciation of equipment. |
| It is an asset that you can potentially re-sell or trade in. | Potential downtime if an item breaks down or is in repair. |
| Longer term it can work out more cost-effective to own equipment if usage is high. | Possible lower than anticipated resale value. |
| Financing can help spread the costs of purchasing equipment, and monthly finance payments can be lower if interest rates are low. | Hidden costs of ownership – e.g. storage, transport, insurance, inspections, repairs, and maintenance. |
| | Potential impact on cash flow – you may be tying up capital that could be used for other projects. |
| | Tools and equipment get updated regularly and you may not be able to take advantage of the latest, most efficient models on the market. |
| | Disposal of equipment will be your responsibility. |
the PROS AND CONS OF HIRING EQUIPMENT
| | |
| --- | --- |
| PROS OF HIRING | CONS OF HIRING |
| Greater flexibility and wider product choice. | You won't own the equipment. |
| With weekly and monthly hire rates, you don't have to pay for equipment you don't need or aren't using. | For some equipment, hiring may work out more expensive than if you were to purchase it. |
| No storage considerations or storage costs. | You may waste valuable resource waiting around for equipment to be delivered and collected – causing potential project delays. |
| Hire companies check and inspect equipment before it goes out so you can rest assured equipment is up to the required safety standards. | Poor communications could mean being passed from branch to branch, resulting in delayed or failed deliveries and collections. |
| Breakdowns are covered by the hire company and downtime will be lessened as they will be able to replace the broken-down equipment immediately. | |
| No need to worry about the delivery and collection of equipment and moving it from site to site. | |
| No repair, maintenance, or inspection costs. | |
| Sustainable model. Products are used repeatedly in a sustainable cycle of hiring, servicing, re-purposing, re-hiring. | |
| Hire companies can offer support and advice on the best tool to use for a specific task. | |
| Access to the latest most, efficient models. | |
IN SUMMARY – HIRING VS BUYING
So, Hiring Vs Buying – is one better than the other? Sometimes hiring will make more sense than buying and vice versa. Many contractors choose to have a mix of both, depending on the tools and projects in question. What is important is when deciding, particularly when significant costs are involved, is to make sure you think about all the variables – usage, project duration, storage, transport, financial implications, and so on. That way you know you will be making the right decision for the company.

And, if you are hiring, make sure you choose a tool hire company that can mitigate some of the cons identified above – such as possible delays and blockers caused by late deliveries and poor communications.
ABOUT THX – THE HIRE EXPERTS
THX are the Tool Hire Experts for Specialist Contractors. Since 2006 we have been helping our customers thrive through delivering a first-rate hire experience to mechanical, electrical, drylining, HVAC and SFS.

Covering major cities across England, THX provides a seamless transparent tool hire experience – from order placement right through to delivery and collection. That's why we offer guaranteed two-hour delivery windows, and you can order up to 6pm for next day deliveries.

Expert Team on hand ready to help from 6am, Mon-Fri
Our friendly team of hire experts are on hand ready to help you with any questions you may have from 6am, Mon – Fri. Our seamless communications process ensures peace of mind throughout your THX hire journey. THX Stream provides complete transparency with live delivery and collection updates.
On time deliveries and collections
THX has many years' experience within the hire industry. We understand the problems that can escalate when much-needed equipment and tools fail to materialise when required and expected.
At THX we know that quick turnaround, on time deliveries , on time collections and good communications are all key factors in reducing delays related to tool and equipment hire.

98% of our deliveries are on-time and in full and our average collection days are just 1.13 days*

Save with Smart Hire – our longer-term hires solution

THX offers Smart Hire. A service that saves you money and gives you more flexibility on longer term hires. Choose a tool, choose your period, and pay a highly competitive rate to hire what you need, when you need it. Plus, all your tool maintenance and repair costs are covered by your monthly fee. Find out more by visiting our Smart Hire page or contacting us on 01234 871320.
* Average KPIs Jan 2021 – Dec 2021